The "next chapter" of the 3rd Platform unfolds as we move from the foundation stage to mainstream adoption stage. With most organizations now utilizing third platform technologies to drive the digital transformation of their organization, the industry finds itself at an inflexion point – those organizations who can rapidly scale their digital transformation efforts by leveraging 3rd Platform technologies will be the the rivers in the digital economy.
This is a high stakes game and the pressure is on as some organizations pull away from the pack with bold digital bets. Leadership comes into play heavily now.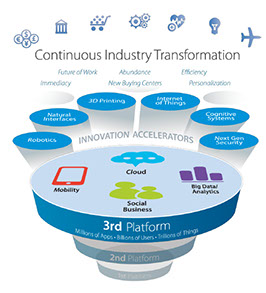 Summary
In this IDC FutureScape Web conference, IDC LA analysts will predict ten major developments that will redefine the IT industry over the next 18-36 months, and impact every industry that uses IT to compete. These developments will reorder all of these industries' leadership ranks over the next several years, and well beyond.
3rd Platform (3P) technologies – including Cloud, Big Data, Mobile, Cognitive Computing, and Internet of Things (IoT) – will once again play a starring role. What's new in 2016 is that we'll see the adoption of these disruptive technologies – and Digital Transformation (DX) initiatives in every industry enabled by these technologies – begin to dramatically scale up. By 2020, we'll see adoption of key 3P technologies, and the rollout of digital transformation initiatives, double or triple – while some elements will expand ten-fold, one hundred-fold, and even ten thousand-fold!
The ten predictions will focus on the most important areas of massive adoption and scale-up. In this presentation, IDC will also address the most strategic question for executives in 2016: "What must enterprise leaders - and their IT suppliers - do to lead in this disruptive and fast-growing 'Digital Transformation at scale' world?"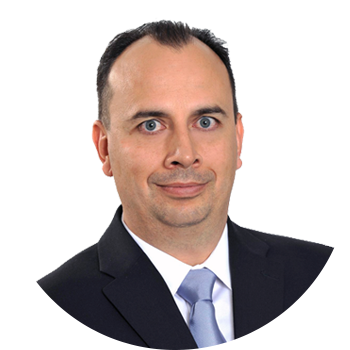 Ricardo Villate
Group Vice President
Latin America IDC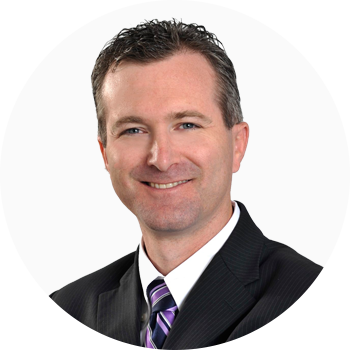 Jay Gumbiner
Research Vice President
Latin America IDC
Ricardo Villate is responsible for the management and direction of IDC's consulting and research business across the Latin America region.
Mr. Villate has more than 20 years of experience in the IT and financial industries in Latin America. During his tenure at IDC, he has held various positions within the organization. Prior to becoming Research and Consulting Vice President for Latin America, he was General Manager, Southern Cone (Argentina, Chile, Peru). Before that, he was a Director of hardware, software, services and telecom research programs for the Latin American region. His knowledge comes through his years as an IT market consultant combined with his background in the financial services industry.
Mr. Villate spends much of his time traveling throughout Latin America presenting at industry and vendor events on the evolution of ICT, Latin America in the context of Emerging Markets, cloud, mobility and consumerization of IT, intelligent industries, big data and analytics, data center transformation, emerging technologies, and partnering strategies among other topics.
He is a frequently quoted analyst in the Latin America media including the Wall Street Journal, America Economia, LatinTrade, and BNAmericas.
Jay Gumbiner oversees IDC's Latin America research organization, managing diverse teams of hardware, software and services analysts spread throughout the region providing analysis across more than a dozen countries in Latin America through quarterly, semiannual, and annual studies. These services provide IDC's clients with detailed insight via market sizing, competitive analysis, and forecasts in the region's leading consumer and enterprise markets. Prior to managing IDC's research in Latin America, Jay held a variety of other positions within the company, previously serving as the Director of Research and Consulting for the region's consumer and commercial device team.
The media values Mr. Gumbiner's expertise and opinion of the Information Technology market trends in the Latin America region. He is regularly quoted in the media, including The Wall Street Journal Americas, CNN en Español, Business News Americas, and has appeared as a guest commentator on television networks such as Bloomberg Latin America.
Technology vendors look to Jay for his insights on the future of the market as well as his confidential opinion on planned strategic initiatives. For over fifteen years, he has frequently spoken at vendor events providing the scenario from which corporate plans are built in Latin America. Jay is also a frequent presenter at industry events throughout the world touching on topics such as Latin America ITC market trends, Cloud computing, Internet of Things (IoT), and the transformation of the CIO role within companies.
Prior to joining IDC, Mr. Gumbiner worked for Fibertel where he was responsible for developing promotional and pricing strategies in Argentina. Prior to Fibertel, he was a Territory Sales Manager for Philip Morris.
He received a Master's Degree in International Business from the University of South Carolina and a Bachelor's Degree in both Economics and Political Science from the University of Washington. Mr. Gumbiner is fluent in English and Spanish and conversant in Portuguese.
Topic and Speaker Introductions
• IDC Web Conference Host
IDC's Future Scape, Latin America Predictions 2016:
Leading Digital Transformation to Scale
• Spanish: Ricardo Villate, Vice President, LA IDC
• English: Jay Gumbiner, Research Vice President, LA IDC
Participant Q&A
• IDC LA Senior Analysts
Conclusions | Wrap-up
• IDC Web Conference Host